By Denise Bennett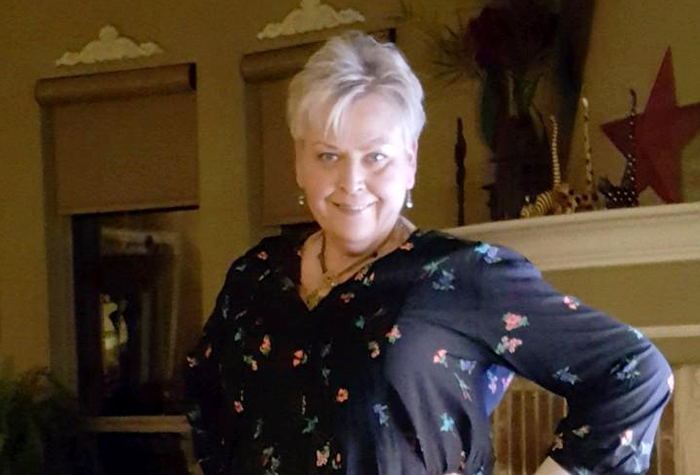 I love clothes. Always have. But as Lipedema progressed, I faced a clothing challenge. At first, it was clothing not fitting properly in my upper arms and eventually it became an issue with the calves of my legs as well.
I was in my mid-twenties the first time I recall it happening. I had business-style uniforms to wear for work, and we were not allowed to wear anything other than the slacks, skirts, blouses, vests and jackets that were provided. The wardrobe was custom made for each of us, and they all fit properly and felt good. Uniforms were to last for two years and then we would be reordered. I received all my items, and they fit perfectly. Despite no weight gain, somewhere during those two years, the sleeves of the blouses began to get tighter and tighter and finally reached the point of no longer fitting my upper arms. Mandate to wear these specific items, I cut the sleeves off, and wore the altered, sleeveless blouses underneath my issued blazer jacket, regardless of the temperature.
Years later, it started affecting my jeans and dress pants. Nothing fit my calves anymore, and it never occurred to me to buy larger pants and have them taken in around my waist, hips and thighs. By this time, uniforms were a thing of the past, and I focused all of my clothing purchases on long skirts, wide-legged pants, long or sleeveless items that could be covered with a sweater or loose fitting jacket to fashionably hide my disfigurements.
Tailored and straight-leg fashion trends were a nightmare. I carried the dimensions of my calves and arms in my purse along with a tape measure, so that while shopping I could measure clothing items while shopping. I didn't want to experience the heartbreak of trying clothing on in store dressing rooms only to discover that the pants would not progress past my calves and that jackets wouldn't slip on over my upper arms. If I did manage to get a jacket on over one arm, I could pull back the lapel and see the fat flap squeezing through the armhole. In case you haven't ever had that experience, it is neither attractive nor comfortable for long or short term wear. Eventually, it became all about sweaters/cardigans over sleeveless tops. It was a solution, but I live in South Texas and one really looks ridiculous wearing sweaters, no matter how lightweight they are, when it's 100 degrees.
Wide-leg flowing pants, long skirts and dresses became the only options for covering my legs. Wearing jeans or boots was impossible. I had to learn to work with my options. Clothing manufacturers really have no idea what women with lipedema, or our sister friends with lymphedema are faced with. I suspect that each of us has purchased items of clothing in every imaginable color if they fit us, regardless of whether we liked them or not. I know I did.
The transition from pre-liposuction and post-liposuction shopping is an interesting path. One would think that is it all fun, joyful and tearless, and IT IS all of those things, while at the same time it is not.
For so long we have shopped a specific way, looking for specific things, knowing what worked on our bodies the best, and pushing everything else aside. Now, the clothing stores are an entirely new world to us. We are not confined to just one department, scanning through racks of clothes searching for anything that will fit us properly, and look acceptable, or as perfect as can possibly be in that moment. Whether or not I was plus-sized, I used to always notice that nine times out ten the fuller women's clothing was located in a separate section of the store than the "normal" sized women's clothing. It was most often located on a different floor, and often by the appliances, providing yet another reminder to our often-wounded psyche that we did not fit in.
Even after weight-loss and liposuction, I had a difficult time staying on the main floor of the store. My mind and my feet wanted to take me back to the designated section of the store. At first, and even sometimes still, I have trouble realizing that the standard clothing options will fit my legs, and I no longer have to scan every rack for pants with large leg openings, blouses that are fuller in the upper arm, long skirts and dresses, and sleeveless shirts that are easily covered with an accommodating sweater.
Although I am only six months post surgeries, it is starting to sink in. Recently I went shopping at a boutique type store, on my lunch hour, and was excited to try on multiple items, and even go out into the store lobby to look at myself in a three-way mirror. I sought the opinion of a random shopper to make sure that the item I was trying on fit me properly. I couldn't tell. The pictures in my mind are still more powerful than the reflection in the mirror. I hope that with enough time, this will pass.
In the meantime, take a trusted friend, or your spouse with you. They can help you navigate the clothing options, assist you in purchasing items that are the correct size, and challenge you to select and try on styles you still cannot imagine yourself being able to wear. Once you've selected the items you want to purchase, have a sales associate hold them for you. Go get a cup of coffee. Relax. Then go back and take a second look, perhaps trying them on a second time. In this day of cell phone cameras and full length mirrors, take pictures and determine if you like what you see. Don't look at them too long…because you will start finding and focusing on your flaws. Look at them with the same eyes you would use to look at your dearest, most beloved friend. Then make your decisions and purchases.
Wear them well and with confidence. Wear them in good health. Wear them with thankfulness for all you have been able to accomplish.
Then, since shopping can be and is fun, repeat.
© 2018 Lipedema Surgery Center. All rights reserved.